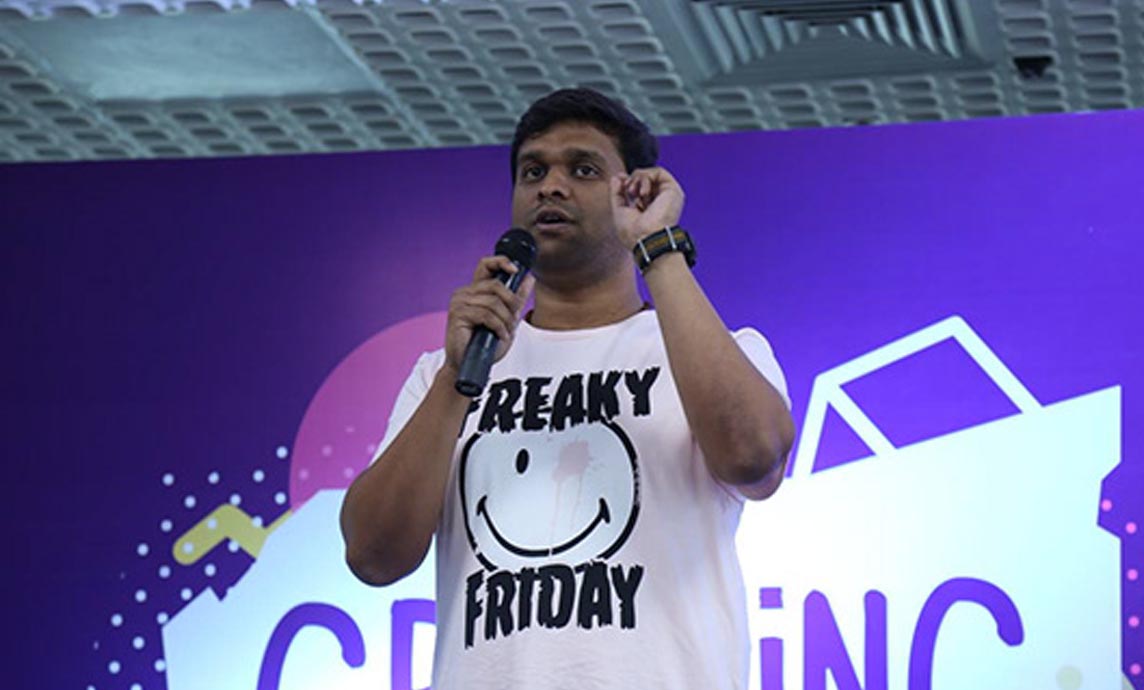 Everyone is motivated to achieve a certain goal. People run behind one of many forms of wealth which include financial profits, fame, victory, health, etc. But a certain individual in this world chose to acquire all of the 16 aspects of wealth in an elegant and hassle-free manner.
Mr.SCD Balaji is an acclaimed branding professional in India. He is the co-founder of Atma Studios and Quirky Invitations and holds reputed courses on artpreneurship to students across the world. He is one of the visionaries who traced the path for the Neerukku Nandri movement.
The universe exists in a state of 'being-doing-having'. Guruji Mithreshiva often states that when a person is thankful for the things he receives from the existence, he flourishes well in prosperity. Mr. Balaji is one such soul who exists in this state constantly throughout his life. He is always ready to give back to the universe. 'I'm merely keeping wealth from one place to another!' said Balaji at an interview during a Satsang conducted by Guruji Mithreshiva.
Mr. Balaji believes that he started his businesses with the sole intention of changing the existing business models. 'People believe that they need to be diplomatic and ruthless in order to succeed. I'm here to change this preconceived notion and evidently show them that I can take my businesses to another dimension simply by being compassionate and grateful to everything I've got so far.' This vision has resonated deep from his hearts and has sculpted the minds of his clients when they visually see the way he works.
With regards to Neerukku Nandri, Mr. Balaji stated that he is devoted to be a part of this great legacy. At various interactive sessions with his clients, He often states that He wishes to be a part of this revolution because he knows how his life is going to transform for the better. He also admits to the fact that he is greedy to play a major role in a revolution which will be praised by future generations to come.
People like Bill Gates and Elon Musk went to great heights after a multitude of struggles after which they realized that their sole purpose of earning was to return it back for the welfare of societies. Mr. Balaji is certain that by developing a giving tendency, a person would grow to heights beyond Bill Gates or Elon Musk's progress.
He also knows that by contributing 50% of his profits from his business networks for the majestic being-Water, he would certainly become richer in terms of all of the 16 aspects of wealth. He has also expressed his confidence that 'Every single penny that someone donates to water is basically him/her depositing double the amount donated, in their bank account.'
His personal vision is to spread awareness about Neerukku Nandri in every nook and corner of the world. Neerukku Nandri should be caught by everybody's eyes to provide a recurring reminder to remain grateful to water. This life-story is one of the various experiences that the revolutionaries of Neerukku Nandri have come across. This has had a vigorous sense of persuasion to motivate the people, especially the youth to understand the true nature of the supreme being-Water and the extreme need to show gratitude to water.
Mr.SCD Balaji has expressed his heartfelt gratitude to Water by agreeing to contribute 50% of his profits from various businesses towards the Neerukku Nandri revolution everyday.